"A happiness worth pursuing." --George F. Will
Welcome to 9 Innings,

a celebration of the National Pastime, the game that perfectly reflects the American character. No sport lends itself to storytelling like baseball, and this website focuses on the story of the most perfect of games using an unique format. New material is published weekly. The focus is on baseball's great moments, the personalities, the eternal arguments, the legends and the lore.

(While you will find some stats on this site, statistics are not the focus here.
Baseball Reference
and
Retrosheet
are just two of several excellent sites where you will find all the baseball numbers you could possibly want.)

Just go to the TABLE OF CONTENTS and start reading about the most perfect game ever devised. If you aren't one already, you might just become (as I am) a true believer in the church of baseball.

Take time out to play THE "THAT'S BASEBALL" GAME. All you need are some baseball cards and dice.

Stories, anecdotes, commentary, articles, suggestions and criticisms are all welcome. Help this site reach its full potential.

Email: baseballreader@lycos.com

If you have a baseball-related website I will place your banner ad with an upcoming issue. It's free.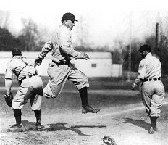 "That's baseball, and it's my game." -- Humphrey Bogart
Recommended Reading

Shades of Glory: The Negro Leagues... Hogan & Tygiel




Revisit previous recommended readings @




Click on the logo above to visit the

MLB Official Site





(c) 2006, Jason Manning

EMAIL: baseballreader@lycos.com





The 9 Innings Daily News Digest
(partnered with MLB.com)