"Nothing in our daily life offers more of the comfort of continuity, the generational connection of belonging to a vast and complicated American family, the powerful sense of home, the freedom from time's constraints, and the great gift of accumulated memory than does our National Pastime."
-- Ken Burns

1st INNING
The Death of Ray Chapman


On August 16, 1920, the Cleveland Indians were in first place, albeit by just a few percentage points, and making their third and final visit of the season to the Polo Grounds, then the cavernous home of both the New York Giants and the New York Yankees. Facing Cleveland on that day was Yankees ace Carl Mays. An ethereal fog that hung over the Polo Grounds had been complicated by a drizzle by the time shortstop Ray Chapman led off the fifth inning for Cleveland. May's best pitch was delivered with an underhand sweep. Down went his body and out shot his arm from the blur of white shirts and dark suits in the open bleachers in the deep background behind him. The pitch struck Chapman in the temple and killed him -- from all indications he never saw it. As a consequence of the only on-the-field fatality in major league history, dirty or scuffed balls thereafter were discarded immediately from play and patrons were no longer allowed to sit in the center field bleachers. Mays was quickly exonerated from any wrongdoing but the following season fell under suspicion of throwing the 1921 World Series. This, more than the Chapman incident, would haunt him the rest of his days.

-- David Nemec & Peter Palmer
1001 Fascinating Baseball Facts


2nd INNING
The Color Line

Chicago [White Stockings] manager and star player, Cap Anson, ran his club -- and played for it -- until 1897, when he was forty-five. When he finally retired, he continued for ten years to oil and dust every one of the 400 bats he kept in his basement, just in case some team should call in need of his services. He was one of the era's titanic figures, at once a brilliant businessman, a great player, and an imposing figure in the game's inner circles. But Anson also was responsible for one of the saddest events in the history of baseball, an occurrence that would retard the game's progress for more than half a century.


Moses Fleetwood Walker, the son of a physician, had been an outstanding athlete at Oberlin College, and while there he attracted the attention of the Toledo team in the Northwestern League, which signed him in 1883. The very next year Toledo was invited to join the American Association, and Walker was one of the few players the club retained. A catcher for Tony Mullane, he batted .263 in 152 at bats and was quite popular both in Toledo and in such road cities as Baltimore and Washington. His brother, Welday Wilberforce Walker, also played in five games for Toledo that season as an outfielder, going 4-for-18.

But when the White Stockings came to Toledo for an exhibition [game] that year, Anson threatened to pull his team off the field if Fleet Walker played. Charley Morton, the Toledo manager, refused to comply with the demand. "The joke of the affair," according to one account, "was that up to the time Anson made his 'bluff,' the Toledo people had no intention of catching Walker, who was laid up with a sore hand, but when Anson said he wouldn't play with Walker, the Toledo people made up their minds that Walker would catch or there wouldn't be any game."

Anson's position soon took root. On July 14, 1887, the International League instituted an unofficial color line, and that same day Anson succeeded in getting the Newark "Little Giants" to remove their black battery of pitcher George Stovey and Fleet Walker from an exhibition game with the White Stockings. Later in the year, all but two of the St. Louis Browns refused to take the field against the Cuban Giants. "Dear Sir," read their letter to club owner Chris Von der Ahe, "We the undersigned members of the St. Louis Base Ball Club do not agree to play against negroes tomorrow. We will cheerfully play against white people any time, and think by refusing to play, we are only doing what is right." Von der Ahe informed the New York crowd of 7,000 that his team was too crippled to play, and in way, he was right.

-- Daniel Okrent & Steve Wulf
Baseball Anecdotes


3rd INNING
A Comedy of Errors


Smead Jolley (1930-33) [of the Chicago White Sox] was one of the world's worst outfielders. Even Jolley agreed. He sealed his reputation by committing three errors in a single play. He was stationed in right field in a game against the Athletics in Philadelphia. Bing Miller smashed a single and, to the White Sox's dismay, it headed right for Jolley.

As expected, the ball rolled through his legs for error number one. Jolley whirled around to play the carom off the wall. To no one's surprise, the ball scooted back through his legs for error number two. Jolley could have stopped while he was ahead, but perhaps sensing immortality, he seized the moment to vault himself into the twilight zone of fielding. He picked up the ball and heaved it over the third baseman's head for error number three. Meanwhile, Bing Miller circled the bases.

Shockingly, Jolley's incredible feat never made it into the record books. The official scorer, refusing to believe that any major leaguer could commit such a fielding atrocity, charged Jolley with only two errors, thus robbing him of an officially recognized record as the worst single fielding play in baseball history.

Nevertheless, Jolley went on to distinguish himself when he was traded to the Boston Red Sox where he had trouble with Fenway Park. Some parks in those days had embankments against the outfield fences before warning tracks were installed. At that time, Fenway had a ten-foot incline in left field. To Jolley it was as awesome as Mount Everest. In frustration, the Red Sox coaches spent mornings hitting fungoes to left while Jolley practiced running up the hill to make the catch.

The next time Jolley started in left, he had a chance to show how he could handle the incline. In a game against the Washington Senators, a long fly ball was hit to left. Jolley took off, ran easily up the incline, turned around to make the catch and saw that he had overrun the ball. Jolley started back down the incline but tripped and sprawled flat on his face. The ball bounced near him and by the time Jolley staggered to his feet, the batter was standing on third.

At the end of the inning, Jolley returned to the dugout, cussing at his coaches. "Fine bunch, you guys," he complained. "For ten days you teach me how to go up the hill, but none of you has the brains to teach me how to come down!"

-- Bruce Nash & Allan Zullo
The Baseball Hall of Shame

4th INNING
Strange Home Runs

The home run -- the grandest achievement in baseball -- is usually a mighty shot over a distant fence. But not always.


When Babe Ruth was with the Boston Red Sox in 1919, he was credited with a home run on an infield fly. "It must have been the highest pop-up ever hit," said Ruth's victim, pitcher Lefty Leifield of the St. Louis Browns. "The infielders were running around like chickens with their heads cut off, yelling that they couldn't see the ball.

"When the ball came down, Babe had already rounded third. There wasn't any chance to make a play on him and three runs scored."

On June 19, 1942, Dom DiMaggio of the Red Sox sliced the ball down the right-field line. White Sox outfielder Wally Moses watched it roll under the bullpen bench, where he parted the feet of the occupants in frantic search. By the time he found the sphere, DiMaggio had scored the only run of the game.

....Then there was the time Cleveland's Jimmy McAleer hit a ball into an empty tomato can at the base of the outfield wall. Hugh Duffy, unable to pry the ball loose, threw the whole can toward the infield, which relayed it home. Tagged with ball in glove, McAleer would have been out. But tagged with ball in can was something else. The umpire ruled him safe.

The longest home run was produced by a spontaneous combination of long ball and hopper. Joe Hauser, with Baltimore of the International League, deposited the ball in a passing coal car, which hauled it 32 miles.

Pitcher Wes Ferrell, an excellent hitter, homered in the eighth to tie and in the twelfth to win for the Red Sox, 3-2, over the White Sox on August 22, 1934.

Light-hitting Joe Niekro hit the first home run of his 10-year career in 1976 -- a game-winning blow off brother Phil, a good hitter.

Hoyt Wilhelm, even a lighter hitter than Joe Niekro, homered in his first at-bat as a rookie with the 1952 Giants, then tripled in his second. But he never hit another home run or triple over the rest of his 21-year career as a relief specialist.

Pitcher/outfielder Johnny Cooney of the Boston Bees in the '30s hit his first homer after playing 15 years, then hit another the next day. He'd play five more years without hitting any more.

Many players have homered in their first at-bat, but Bob Nieman of the 1951 Browns was the only man to hit home runs in his first two plate appearances in the majors.

Eight years later, a pinch-runner homered for the Red Sox. Gene Stephens, inserted as a runner for Ted Williams during a Boston uprising, was cut down in a force-play, but the rally continued and his batting turn came up again. Manager Billy Jurges let him bat and Stephens responded with a grand-slam homer. Boston won the contest from New York, 13-3.

Eleven players have hit two grand slams in the same game -- Fernando Tatis and pitcher Tony Cloninger in the National League plus American Leaguers Tony Lazzeri, Jim Gentile, Jim Tabor, Rudy York, Jim Northrup, Frank Robinson, Robin Ventura, Chris Hoiles, and Nomar Garciaparra. Tatis, who did it in 1999, was the only member of that group who connected twice in the same inning. The Braves, the Indians, and the Twins all had four consecutive home runs -- in 1961, 1963, and 1964, respectively.

Home-run history illustrates the unpredictable nature of the game.

-- Don Schlossberg
The Baseball Almanac

5th INNING
Bill Rigney: The Rookie


Jorge Pasquel and his brother formed the Mexican League in 1946 and were offering major leaguers a lot of money to defect, thousands more than they were making in the majors. Stan Musial even considered leaving the Cardinals. The Giants held a [spring training] meeting and our manager Mel Ott asked, "Is anyone here going to Mexico?" Babe Young, an outfielder-first baseman, said we all should have raised our hands because we'd have gotten better contracts. As it was, we lost Sal Maglie, who had shown great promise as a rookie pitcher in 1945, outfielder Danny Gardella, second baseman George Hausmann, and a couple of other guys. They went down there, though our new Commissioner, Happy Chandler, threatened them with permanent banishment. (Gardella would later sue major league baseball for reinstatement after the Mexican League folded.)

The rest of us headed north. John McGraw had started a tradition: anytime the Giants would open a season in New York, they'd play the Cadets at West Point the day before ....

I'd never been to New York. I'd never been to a major league ballpark. I'd never seen the Polo Grounds. We got in at ten o' clock at night. We carried our own bags in those days, and I walked up those steps and into the Giants' clubhouse. It was a marvelous clubhouse: you walked down the steps and there was one big room and down six more steps and there were all the lockers. The trainer's room was there and the showers were upstairs; the manager's office was on the first deck. I looked for my locker and there it was next to the locker of Johnny Mize. I put my stuff down and said to myself, "Christy Mathewson, Bill Terry, John McGraw, Mel Ott, Travis Jackson, and all the other great Giants of the past dressed right here." Both clubhouses were in center field, and i walked down the twenty steps onto the field. The night lights were on. I saw that the Polo Grounds was built like a horseshoe with home plate in the middle. I remember the chill I got thinking, "Tomorrow you're going to be the shortstop in front of 45,000." I wondered what I was doing there. I wondered if I could handle it.

The next day I was introduced and ran onto the diamond in front of all those fans. I prayed the ball would be hit to me quickly so I could calm down. And the Phillies' little shortstop, Skeeter Newsome, hit the ball through the box. I picked it up one-handed and threw him out. The crowd cheered. And I said, "Oh boy, this is going to be all right." The first time I batted, Oscar Judd threw me a screwball on a 3-2 pitch and struck me out. A 3-2 screwball? I said, "This is the major leagues." Later I solved him for two hits, we beat the Phils 8-2, and Bill Voiselle got the victory.

....That first year I lived in the Bronx, on 183rd Street. My wife was pregnant, and the apartment we rented was on the top floor and had no air conditioning. We just about died. I was under a lot of pressure to succeed. I wanted to raise a family and support them by being a ballplayer. I had such love for the game and couldn't let myself think what I might do if I failed and had to do something other than play professional baseball. It was my life.

--Bill Rigney
We Played the Game
Rigney's story will be continued in the next issue of 9 Innings -- ed.

6th INNING
Merkle's Boner

The most famous rules violation in baseball history was "Merkle's boner" of September 24, 1908. The New York Giants and Chicago Cubs, fighting for the National League pennant, were locked in a 1-1 tie in the ninth inning at New York when the Giants put Moose McCormick on third and Fred Merkle on first with two outs.

Al Bridwell drilled a hit to center field and McCormick raced home with the apparent winning run. But Merkle, seeing him score, stopped short of touching second and headed for the clubhouse. Cub first baseman Frank Chance saw what happened and screamed for the ball; he knew he could touch second and make Merkle the victim of a force play, thus ending the inning with the score still tied.

Giants' pitcher Joe (Iron Man) McGinnity heard Chance, sprang off the bench, and tackled him before he could reach second. Meanwhile, the fans -- thinking the game was over -- had spilled onto the field in a rush for the exits.

McGinnity grabbed the ball and threw it into the crowd. Chance appealed to umpire Hank O'Day, who ruled Merkle out because of interference from McGinnity. The game ended in a tie and had to be replayed when the two teams finished the season with identical 98-55 records.

The Cubs won the replay and the pennant, but 19-year-old Merkle, perpetrator of the costliest blunder in baseball history, actually received a raise from Giants' manager John McGraw, and went on to become an excellent player.

-- Don Schlossberg
The Baseball Catalogue

7th INNING
Year in Review: 1900

The 1900 season marked the arrival of not only a new century but of a new era in major league baseball. After absorbing the American Association in December 1891, the National League tottered along for eight years as an unwieldy 12-team circuit. At the close of the 1899 campaign, however, the NL pared down its size by bidding farewell to its four weakest members. The elimination of Cleveland, Baltimore, Washington, and Louisville streamlined the NL to eight teams and created a stable composition that would endure until 1953.

The chief beneficiaries of the NL's decision to cut back in size were Brooklyn and Pittsburgh. Both had been under "syndicate" ownership in 1899, a common practice at the time that allowed the same partnership of owners to operate more than one team. As a result, Brooklyn fell heir to most of the cast from the great Baltimore Orioles teams of the mid-1890s, and Barney Dreyfuss, who owned the controlling stock in both the Pittsburgh and Louisville franchises, simply transferred all of the defunct Kentucky club's top players to the Steel City. Among them were pitchers Deacon Phillippe, Jack Chesbro, and Rube Waddell; player-manager Fred Clarke; and the great Honus Wagner.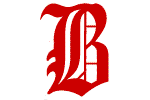 It was Brooklyn's annexation of three Baltimore pitchers -- Kitty Kitson, Harry Howell, and Iron Man Joe McGinnity -- that spelled the difference in 1900. The trio joined with holdover Brickyard Kennedy for 70 of Brooklyn's 82 wins and lift manager Ned Hanlon's club to its second straight NL pennant by a comfortable 4-1/2 games over Pittsburgh. Philadelphia finished eight lengths back in third place, and Boston rounded out the first division even though the Beantown entry slipped six games under .500.

Because the Louisville contingent needed time to blend with his Pittsburgh holdovers, Dreyfuss's Pirates did not really begin to gel until the season was nearly completed. To settle doubts that he had the superior team, Hanlon accepted Dreyfuss's best-of-five postseason challenge, with all the games to be played in Pittsburgh for a silver cup to be donated by the Pittsburgh Chronicle-Telegraph. The "Series" opened on October 15 at the Pirates' Exposition Park. Behind McGinnity and Kitson, Hanlon's Superbas took the first two games but then were belted 10-0 in the third contest. The following day McGinnity cruised to a 6-1 triumph and convinced any lingering skeptics that the best team had won in the regular season.

-- David Nemec & Saul Wisnia
Baseball: More Than 150 Years
IMAGE: Brooklyn Superbas 1900 logo.


8th INNING
Stats: The Perfect Game

perfect game -- A no-hitter in which no opposing player reaches first base, either by a base hit, base on balls, hit batter, or fielding error; the pitcher or pitchers retire all 27 opposing batters in order.

Lee Richmond ... June 12, 1880 ... WOR 1, CLE 0
John Ward ... June 17, 1880 ... PRO 5, BUF 0
Cy Young ... May 5, 1904 ... BOS 3, PHI 0
Addie Joss ... Oct. 2, 1908 ... CLE 1, CHW 0
Charlie Robertson ... April 30, 1922 ... CHW 2, DET 0
Don Larsen ... Oct. 8, 1956 ... NYY 2, BRO 0
Jim Bunning ... June 21, 1964 ... PHI 6, NYM 0
Sandy Koufax ... Sept. 9, 1965 ... LAD 1, CHC 0
Catfish Hunter ... May 8, 1968 ... OAK 4, MIN 0
Len Barker ... May 15, 1981 ... CLE 3, TOR 0
Mike Witt ... Sept. 30, 1984 ... CAL 1, TEX 0
Tom Browning ... Sept. 16, 1988 ... CIN 1, LAD 0
Dennis Martinez ... July 28, 1991 ... MON 2, LAD 0
Kenny Rogers ... July 28, 1994 ... TEX 4. CAL 0
David Wells ... May 17, 1998 ... NYY 4, MIN 0
David Cone ... July 18. 1999 ... NYY 6, MON 0
Randy Johnson ... May 18, 2004 ... ARI 2, ATL 0
BUF: Buffalo Bisons PRO: Providence Grays WOR: Worchester Brown Stockings


9th INNING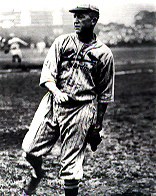 Player Profile: Grover Cleveland Alexander

Nickname: "Old Pete"
Born: February 26, 1887 (Elba, NE)
ML Debut: April 15, 1911
Final Game: May 28, 1930
Bats: Right Throws: Right
6'1" 185
Hall of Fame: 1938 (Baseball Writers; 212 votes on 262 ballots; 80.92%)

Played for: Philadelphia Phillies (1911-1917, 1930); Chicago Cubs (1918-1926); St. Louis Cardinals (1926-1929)

Postseason: 1915 WS, 1926 WS, 1928 WS
Alexander played semi-professional ball as a youth, signing his first pro contract in 1907 at age 22 for $50 month. During his first season he was hit in the head with a ball, an injury probably responsible for the epilepsy he suffered in subsequent years. In 1910 he was sold to the Philadelphia Phillies for $750. In his first year in the majors he led the league with 28 wins (against 13 losses) -- a modern-day rookie record. He also pitched seven shutouts and 31 complete games. Between 1912 and 1920 Alexander led the league in ERA four times (1915, 1916, 1919, 1920), wins five times (1914, 1915, 1916, 1917 and 1920), innings pitched six times, strikeouts six times, complete games five times and shutouts five times (setting a single season record of 16 in 1916). A master of the curveball, he was unquestionably the dominant pitcher in the National League from 1915 through 1917, winning the pitching triple crown in those three years. (He won 30 or more games in three consecutive seasons.)

Anticipating that Alexander would be drafted when America entered World War I, the Phillies sold him to the Chicago Cubs. Alexander served in France in 1918 as an artillery officer; he returned from the war suffering from shell shock, and his epileptic seizures had worsened. He had also become dependent on alcohol. Nonetheless, he earned another pitching triple crown in 1920. In 1925 he entered a sanitorium, and the following year was suspended by the Cubs before being waived to St. Louis. The Cardinals won the National League that year and met the New York Yankees in the World Series, during which Alexander pitched complete game victories in Games 2 and 6. In Game 7 he came in with the Cardinals up 3-2 in the 7th inning. The bases were loaded and there were two outs. Striking out Yankees slugger Tony Lazzeri with four pitches, Alexander held New York scoreless for the final two innings, and St. Louis won the championship.

Old Pete had another 20-win season in 1927, but then the drinking got the better of him. He pitched for the House of David from 1931-1935, and in 1938 was elected to the Hall of Fame.

-- Jason Manning

"He made me want to throw my bat away. He fed me pitches I couldn't hit."
-- Johnny Evers

Holds the third highest total in wins (373) in ML history.

Holds league records for most complete games (437) and shutouts (90).

Tenth all time in innings pitched (5,189), and eighth in hits allowed (4,868).

EXTRA INNINGS
They Played the Game
Babe Adams
(1906-26)
Adams threw three complete-game victories for the Pittsburgh Pirates in the 1909 World Series with the Detroit Tigers, and was a mainstay of the Pirates pitching staff until he was caught up in the so-called ABC Mutiny that led to his release by the team. Adams had a career 194-140 record, and a 2.76 career ERA.

BORN 5.18.1882, Tipton, IN.
Fred Dunlap
(1880-1890)
In 1884, with the Union Association's St. Louis Maroons, second baseman Dunlap (nicknamed "Sure Shot") set a record with 1.58 runs per game. He scored 160 times in 101 games, with 185 hits and a .412 BA.

BORN 5.21.1859, Philadelphia, PA .292, 41, 366
Frank Selee
(1890-1905)
Selee managed the Boston Beaneaters from 1890 to 1901 and ended up with five pennants and a record of 1,004-649. Selee's greatest gift was finding young talent -- to wit, players like Kid Nichols and Vic Willis. Selee was inducted into the Hall of Fame in 1999.

BORN 10.26.1859, Denver, CO
John Montgomery Ward
(1878-94)
A Hall of Famer, Ward was a graduate of Columbia Law School who was one of the founders of the Brotherhood of Professional Base Ball Players, which was created to fight the reserve clause. He played for the Providence Grays and the New York Giants, among other clubs, and was proficient as an infielder, an outfielder, and as a pitcher (a career 2.49 ERA). Ward is the only player in major league history to have won more than 150 games as pitcher while accumulating more than 2,000 hits as a batter. According to Joe Tinker, Ward was "a star outfielder, a brilliant infielder, and a better pitcher than [Old Hoss] Radbourn. And he was one of the best baserunners who ever lived."

BORN 3.3.1860, Bellefonte, PA .275, 26, 867
George Foster
(1969-86)
In his day Foster was one of the best sluggers in the majors, leading the league in home runs twice (1977, 1978) and RBIs three times (1976, 1977, 1978). In 1977 he earned MVP honors with 52 homers and 149 ribbies, and had a batting average over .300 four times.

BORN 12.1.48, Tuscaloosa, AL .274, 348, 1239

THIS MATERIAL IS REPRODUCED FOR NON-PROFIT EDUCATIONAL AND SCHOLARLY PURPOSES ONLY, WHICH COMPLIES WITH THE DOCTRINE OF FAIR USE AS EXPRESSED IN THE COPYRIGHT ACT OF 19 OCTOBER 1976, EFFECTIVE 1 JANUARY 1978 (TITLE 17 OF THE UNITED STATES CODE, PUBLIC LAW 94-553, 90 STAT. 2541.)
The

NEVADA DUSTERS

The Story of a Major League Baseball Franchise