"Progress always involves risks. You can't steal second and keep your foot on first."
-- Frederick B. Wilcox

1st INNING

2nd INNING


3rd INNING

4th INNING

5th INNING
Pee Wee Reese:


6th INNING
Stats


7th INNING
Year in Review: 1919


8th INNING
The 1919 World Series

9th INNING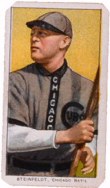 Player Profile: Harry Steinfeldt
Full name: Harry M. Steinfeldt
Born: September 29, 1877 (St. Louis, MO)
ML Debut: April 22, 1898
Final Game: July 1, 1911
Bats: Right Throws: Right
180
Played for the Cincinnati Reds (1898-1905), Chicago Cubs 1906-1910, Boston Beaneaters (1911)
Career stats: .330, 27, 762
For a lot of baseball fans, Harry Steinfeldt is nothing but the answer to the trivia question, "Who was the third baseman in the Tinker to Evers to Chance infield?" But he was more than that. The fact is, Steinfeldt was a fine player in his own right and probably the third-best player on the 1906 Cubs, behind only Miner Brown and Frank Chance.

Steinfeldt was born in St. Louis in 1877 and, according to legend, as a young man in Texas he deserted his musical troupe (Al Field's Minstrels) to help a ball club in need and never returned to the stage. Steinfeldt made his major league debut with Cincinnati in 1898, and in March of 1906 he was traded to the Cubs for third baseman Hans Lobert and pitcher "Tornado Jake" Weimer.

According to Johnny Evers, "Chance realized that third base must be filled or his pennant hopes would filter away at that corner. He knew the man he wanted, Harry Steinfeldt, who was playing indifferent ball with Cincinnati. He was slow, a heavy hitter, a good fielder, and a wonderful thrower."

There were unflattering rumors floating around about Steinfeldt, and Chance spent a fair amount of time convincing Cubs owner Charlie Murphy to make a move. Murphy finally relented, however, and the last piece of the puzzle was in place. The Cubs, who had been a good team but still finished double-digit games out of first place in 1904 and 1905, turned into a team that won four pennants and posted a 530-235 record from 1906 through 1910. And when Steinfeldt left, the Cubs stopped winning pennants.

Though some sources say that Steinfeldt was sold to the Boston Rustlers in March 1911, he was actually sold to St. Paul of the American Association on April 5. However, Steinfeldt refused to report, saying he'd play for only the Cubs or the Cincinnati Reds, his old club.

Given a chance to return to the National League with the Rustlers, however, Steinfeldt relented, accepting a trade that sent him from the St. Paul club to Boston. He played in only 19 games for the Beaneaters due to a leg injury and, in the settlement of a nasty dispute between him and Boston, Steinfeldt was granted his release by the National Commission in December of 1911 .... In 1912, he agreed to manage the Cincinnati team in the new United States League, but the league folded in late May.

Steinfeldt died in August 1914.
-- Rob Neyer & Eddie Epstein
Baseball Dynasties

EXTRA INNINGS
Baseball Dictionary

THIS MATERIAL IS REPRODUCED FOR NON-PROFIT EDUCATIONAL AND SCHOLARLY PURPOSES ONLY, WHICH COMPLIES WITH THE DOCTRINE OF FAIR USE AS EXPRESSED IN THE COPYRIGHT ACT OF 19 OCTOBER 1976, EFFECTIVE 1 JANUARY 1978 (TITLE 17 OF THE UNITED STATES CODE, PUBLIC LAW 94-553, 90 STAT. 2541.)